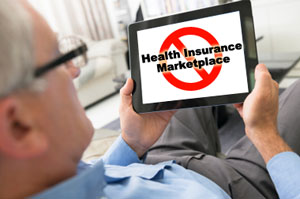 Starting October 1, 2013, the enrollment period opens for Medicare beneficiaries to buy prescription drug coverage or the Medicare Advantage medical policies that are an alternative to traditional Medicare.
Starting January 1, 2014, most Americans will be required to have health insurance or pay a penalty and those without insurance will be able to buy it from the new Internet-based marketplaces, aka health insurance exchanges.
In support of the U.S. Government effort to get the word out, LabFlorida wants to reassure Medicare seniors and all our clients (ALFs, SNFs and home health companies) that Medicare is NOT PART OF HEALTH INSURANCE MARKETPLACES, and that Medicare beneficiaries DO NOT NEED TO SHOP FOR COVERAGE. They are already meeting the insurance requirements.
In fact, selling marketplace coverage to people who have Medicare is illegal, punishable by fines of $25,000 or up to five years imprisonment or both.
"We want to reassure Medicare beneficiaries that they are already covered, their benefits are not changing and the marketplace doesn't require them to do anything," said Michele Patrick, Medicare's deputy director for communications, in a recent public statement.
Questions From Seniors About Medicare And The Health Marketplaces
Q. Will I lose Medicare coverage?
A. No.
Q. Do I need a new Medicare card?
A. No.
Q. Do I have to re-enroll in my Medicare Advantage or supplement plan through the marketplace?
A. No, these policies are not sold in the marketplaces.
Q. Will seniors in Medicare have to buy supplemental insurance?
A. No.
Q. Will they be fined if they don't buy coverage in the health marketplaces?
A. No, as long as seniors have Medicare Part A, which is free and covers hospitals, nursing homes and hospice – already have insurance, so they are not subject to the penalty that most uninsured adults under 65 will have to pay.