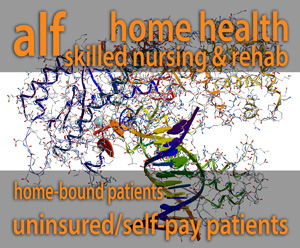 LabFlorida offers high-quality laboratory tests and diagnostic services that help clinicians provide improved patient care.
Our customers include physicians and their patients, healthcare providers, such as assisted living, skilled nursing and rehab facilities, home healthcare companies, healthcare plans and private employers.
We are doing critical work, providing lab services to people with disabilities and senior citizens who want to live and age well – enjoying good quality of life they deserve.
---
Allergy – Cardiology – Coagulation – Endocrinology – Gastroenterology – Infectious Diseases – Obstetrics/Gynecology – Oncology – Pain Management – Urology
---
Diagnostic Testing Services
We are the Tampa Bay leading provider of diagnostic testing, information and services that elderly patients and doctors need to make better healthcare decisions. Our services range from routine blood tests — such as CBC, total cholesterol, vitamin D, Pap testing and white blood cell count — to complex genetic and molecular testing. Our phlebotomists, specially trained to work with seniors and hard stick patients, collect specimens at patients' residences; we perform medical tests that aid in the diagnosis or detection of diseases, measure the progress or recovery from a disease or confirm that an individual is free from disease.
We have specialized expertise in chemistry, special chemistry, hematology, coagulation, urinalysis and drug testing.
Drug Testing and Monitoring
LabFlorida, an independent substance abuse testing provider in Tampa Bay, Florida, offers a variety of drug testing services, from simple rapid drug screens to comprehensive multi-analyte confirmation drug tests.
Our pain management and drug monitoring services provide physicians with better data about prescription medication use, interactions and effect for their patients. This service also helps doctors writing controlled substance prescriptions comply with Florida laws regulating prescription drugs.
Specimen Collection
LabFlorida has the best and most experienced phlebotomists in Florida: specially trained to service senior and hard to stick patients.
We also provide supplies, including urine cups and hats, and a comprehensive set of tools and resources for the successful performance of specimen collection.