LabFlorida uses the assays produced by Beckman Coulter, headquartered in Brea, CA, is one of the most respected manufacturers of instrumentation and assays for the world lab industry. The assays detect antibodies targeting the receptor binding domain (RBD) on the spike protein which SARS-CoV-2 uses to bind to a human cell receptor. Beckman Coulter has the Emergency Use Authorization (EUA) from the U.S. Food & Drug Administration (FDA). Serology test has confirmed 100% sensitivity and 99.6% specificity. This is significant as antibodies which target the RBD have the potential to be neutralizing and thus prevent future infection by blocking the virus from entering the cell. It is for this reason many vaccine developers are also targeting the RBD of the spike protein in their vaccine development.
"We anticipate that understanding the immune status of communities and convalescent plasma donation will play important roles in the fight against COVID-19 before a vaccine is widely available," said Shamiram R. Feinglass, M.D., MPH, chief medical officer Beckman Coulter. "While there is more to learn regarding how long an individual's immune response to the SARS-CoV-2 virus lasts, this test may be crucial to determining the portion of the population that may already be immune." Sawyer Montgomery added, "Our assay can be utilized in a variety of healthcare settings, including central laboratories, as well as smaller clinics and hospitals in underserved communities with a range of Beckman Coulter immunoassay analyzers. This accessibility is vital to ensuring all communities, including minority, rural and urban have access to this testing and answers they can trust."
While immunoglobulin M (IgM) antibodies play a prominent role in the body's primary antibody response to infection, they decline within a short timeframe. IgG antibodies begin developing within the first 14 days, and may last for months or years depending upon the pathogen and the individual.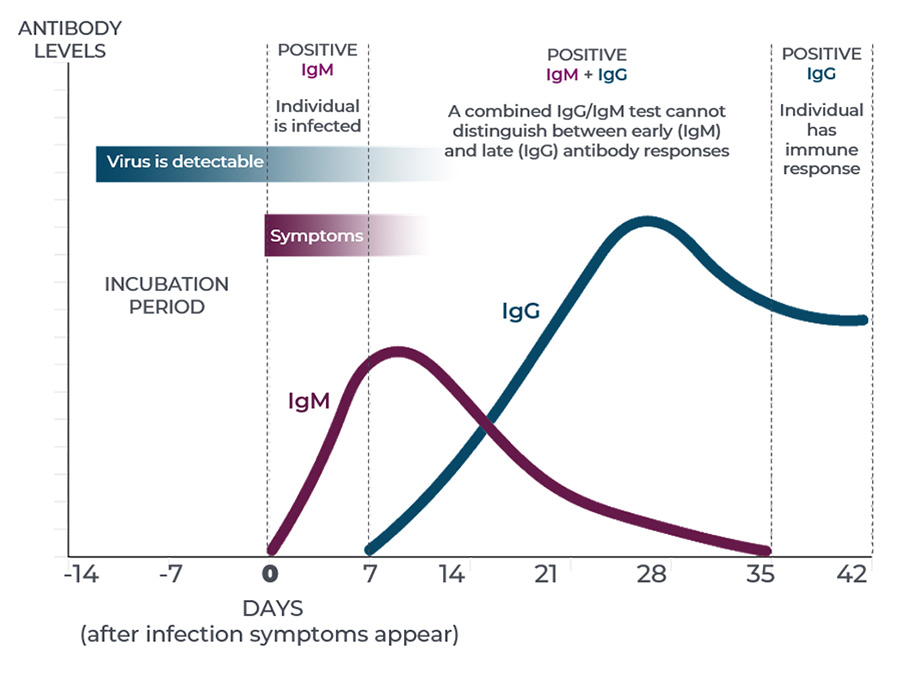 The SARS-CoV-2 Immunoglobulin assays are qualitative immunoassays that detect IgM and IgG antibodies directed to the receptor binding domain of the spike protein of the novel coronavirus that is driving the ongoing global pandemic. It is believed that these antibodies have the potential to be neutralizing antibodies and may play a role in lasting immunity.
The test has a confirmed 100% Positive Percent Agreement (sensitivity) and 99.6% Negative Percent Agreement (specificity) and at 18 days post PCR confirmed positive test.
The assay uses immobilized virus antigens on magnetic particles to capture antibodies from patient blood or serum samples and reveals them using labeled anti-IgM and anti-IgG antibodies. LabFlorida uses these assays on our high-throughput Beckman Coulter DxI analyzers.