Laboratories are heavily regulated by the government. Each of the diagnostic labs that performs in vitro diagnostic tests in the U.S. has to comply with the Clinical Laboratory Improvement Amendments (CLIA).11 Under CLIA, the Centers for Medicare and Medicaid Services (CMS) regulates all laboratories performing testing on humans that are intended to inform the prevention, diagnosis, or treatment of disease, and the FDA categorizes each test according to its complexity. CLIA requires every clinical laboratory to apply for and obtain a certificate that corresponds to the complexity of tests that the lab performs.
LabFlorida has been registered and accredited as a high complexity laboratory, qualified to perform all tests within our specialties.
More than 200,000 clinical laboratories provide testing services in the United States. Hospital-based labs, which comprise about 5% of all laboratories in the U.S., perform the majority of tests (55% of the total volume). Independent laboratories, which account for close to 3% of laboratories, perform 32% of test volume. Physician office labs (POLs), which comprised more than half of U.S. laboratories (53%), are responsible for just 8% of lab test volume. Physician office laboratories perform simple or moderately complex tests to provide immediate, on-site tests results to clinicians.
Other laboratories include local public health laboratories, and laboratories located in end stage renal disease dialysis facilities, ambulatory surgery centers, community clinics, home health agencies, nursing facilities, blood banks, hospices, and so forth. Though these various labs comprise close to 40 percent of the total number of clinical laboratories, they account for only about 5% of the total test volume.
| | | | |
| --- | --- | --- | --- |
| Type of Laboratory | Number of Labs | Percent of Total Number of Labs | Percent of Lab Test Volume |
| Hospital Labs | 8,680 | 5.01% | 55% |
| Independent Labs | 5,414 | 3.12% | 32% |
| Physician Office Labs | 106,190 | 61.28% | 8% |
| Other Labs | 53,000 | 30.59% | 5% |
| | 173,284 | 100% | 100% |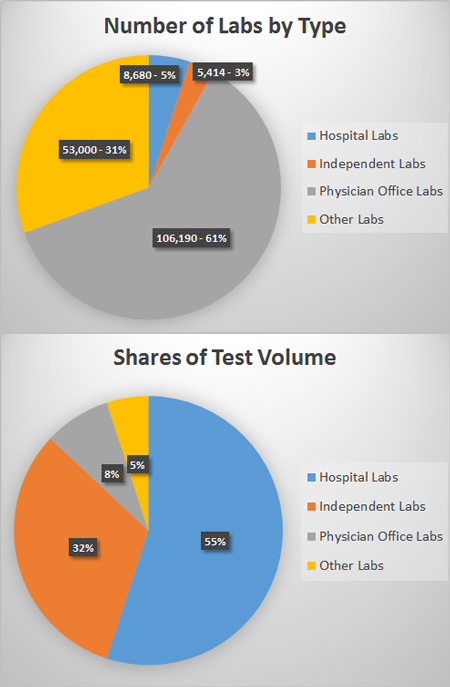 ---