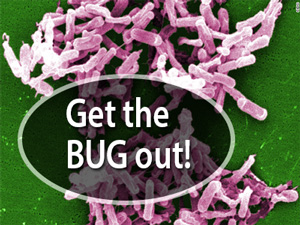 Hospital Acquired Infections, such as MRSA, C. diff and pneumonia present major problems to hospitals, skilled nursing, rehab and long term care facilities. Hospital infections alone cost $9.8 billion a year according to JAMA Internal Medicine September 2013. We have no data on the scope of the problem in ALFs, but infections are very common.
In the U.S., hospital acquired infections (HAIs) afflict nearly 2 million patients and kill approximately 99,000 people annually (Centers for Disease Control and Prevention (CDC)). Every year an estimated 1.7 million Americans develop a new infection while hospitalized.
A study on Clostridium difficile Infections (CDIs) by Healthcare Cost and Utilization Project concluded that in 2012 death rates remained at historic high levels.
Clostridium difficile is an anaerobic, spore-forming bacterium that is a common cause of healthcare-associated infectious
colitis. Symptoms of infection range from mild diarrhea to the sometimes-fatal pseudomembranous colitis and toxic megacolon. The elderly are at the highest risk of developing CDI, which is commonly associated with hospitalized patients and those in long term care.
LabFlorida can play a major role in reduction of HAIs by helping administrators identify problem areas and create "The Bug Stops Here!" campaigns for ALFs and other facilities.